How this war can threaten global food security
Mar 09, 2022 12:37pm
---
The war in Ukraine brings back painful memories of growing up as a refugee in mainland Europe. Watching thousands, now millions being displaced is utterly heartbreaking with undoubtedly lifelong consequences for those children. Let's pray for better days and a peaceful outcome.

In this week's newsletter: Latest research, New tracker reduces meat intake, Tastewise expands into new territory, Readout launches biofeedback programs, Ukraine war threatens global food security.

Happy reading!!
Mariette
CEO & Founder of Qina
What are we up to at Qina?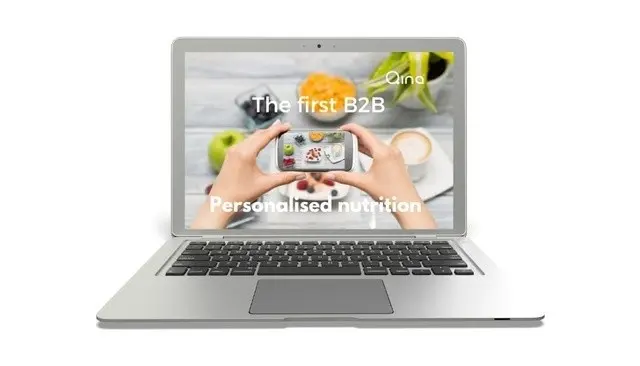 Time seems to be just flying by at Qina HQ. We are working hard on a website make-over which will improve the experience. On the back-end we are:
now clocking up over 500 listed and Qina scored companies,
we have just completed our QinaVer demo event (recording coming soon)
We are launching our next data brief on Retail wellness.
Not a full subscriber to the Qina platform yet?
For more information sign up for a free account.
Research update
"The objective of this study was to test the validity and reliability of 2 questionnaires developed to measure food and sleep-wake timing, the Food Timing Questionnaire (FTQ) and Food Timing Screener (FTS), and the agreement between these 2 tools". The conclusion suggested "Both the FTQ and FTS are valid and reliable instruments for meal timing and sleep. However, further psychometric testing in a more expansive and diverse sample will improve the ability of these tools to accurately assess food timing and sleep and their impact on health outcomes".
This article compared the differences in the gut microbiota between 21 people with obesity and 21 control subjects. The results show that Firmicutes, Bacteroidetes, Actinobacteria, and Fusobacteria are significantly different between the groups. In people with obesity, the ratio of Firmicutes/Bacteroidetes decreased significantly, as well as Faecalibacterium, Lachnospiracea_incertae_sedis, Gemmiger, and Clostridium XlVa. Prevotella, Megamonas, Fusobacterium, and Blautia increased significantly in people with obesity. At the species level, nine species including Bacteroides uniformis and Prevotella copri had significant differences.
This article aimed to identify metabolites associated with 4 plant-based diet indices (PDI) [overall PDI, provegetarian diet, healthful PDI, and unhealthful PDI] and incident CKD (chronic kidney disease) in 2 subgroups within the Atherosclerosis Risk in Communities Study. The results show: 6 PDI-related metabolites (glycerate, 1,5-anhydroglucitol, gamma-glutamylalanine, gamma-glutamylglutamate, gamma-glutamylleucine, gamma-glutamylvaline), were significantly associated with incident CKD and improved prediction of incident CKD.
This review found 25 articles that met the inclusion criteria and aimed to evaluate the nutrigenetic approaches related to the effect of genetic variation on plasma lipid, lipoprotein, and apolipoprotein responsiveness to omega-3 fatty acid intake. The results show that most evidence in this area is weak, but two specific nutrigenetic interactions exhibited strong evidence: male APOE-E4 carriers (rs429358, rs7412) exhibit significant triglyceride reductions in response to omega-3-rich fish oil with a dose-response effect, and 31-SNP nutrigenetic risk score can predict plasma triglyceride responsiveness to omega-3-rich fish oil in adults with overweight/obesity from various ethnicities.
This study aims to describe the expression of selected genes in adult patients with Celiac disease (CD). The results show that TNFα, MAPK1, and CCND1 were significantly overexpressed, and the other genes studied in CD patients were mostly with high values compared to controls, without reaching statistical significance. Among the miRNAs, the closest to a statistically significant value was miR-194-5p. In conclusion, genes and circulating miRNAs require further studies as they could represent important biomarkers in clinical practice.
The cross-sectional study aims "to evaluate associations between plasma LPS (lipopolysaccharides), gut microbiota, and cognitive function", in 127 participants. The results show: "Plasma LPS concentration increased with increasing degree of cognitive decline and total cerebral small vessel disease (SVD) score. Participants with high plasma LPS concentrations tended to have lower concentrations of gut microbial metabolites, such as lactic acid and acetic acid and were less likely to consume fish and shellfish than those with low plasma LPS concentrations". To conclude: "Plasma LPS may be a risk factor for cognitive decline".
Technology News
UNC Gillings School of Global Public Health with funding from The National Institutes of Health (NIH) will conduct a study with 200 young adults that have weight loss goals, over 6 months to evaluate the impact of adding personalized messaging to its weight management smartphone app. The app is called Nudge, and during this time, all participants will be able to use the app's standard features (including weight tracking, activity level check-ins, healthy eating incentives, and food monitoring, especially for high-calorie foods, labeled "red."), and additionally, a personalized messaging feature will be included. This feature will be tested by randomly selecting a portion of patients three times per day who will receive one of seven types of messages. These messages will provide personalized behavior change techniques.
"Optimise meat tracker" is an online platform developed by researchers at the University of Oxford's Livestock, Environment, and People (Leap) program. This platform aims to help customers to reduce the consumption of meat through self-regulation theory (the idea that people monitor and contextualize their own behavior, reflect on it in relation to their goals, and try to modify it in response to feedback). The users log on and pick one meat reduction strategy such as "try a new vegetarian recipe", or "eat no processed meat". The following day, they report whether they achieved this and record how much fish, poultry, red, and processed meat they consumed. Then they receive weekly feedback on how they have done.
Tastewise is a provider of food delivery analytics that helps food brands connect with restaurants across multiple geographies. With a customer base, with companies such as Nestle, PepsiCo, Kraft Heinz, and Campbell's, and based on over 78,000 restaurants and delivery menus, 20 billion social interactions, and 115,000 home recipes online, Tastewise has announced a Series A funding round with a value of $17M, with funding from Disruptive AI, PeakBridge and PICO Venture Partners.
Related Articles:
PNU 30/2020: AI tech offers food brands a finger on the pulse of trends
PNU 14.2019: 37% of consumers use functional food for health, Tastewise finds
PNU 12.2019: Tastewise Raises $5M, Releases New Report on the Importance of Functional Foods
ÜFORIA Science®, launched in 2018, supplier of DNA-based, personalized nutrition. Its patented, proprietary technology allows for the ability to compound nearly 400-million unique supplement formulas based on a single individual's DNA. US-based company, AmpLIFEi a health and wellness lifestyle company. The two companies have joined forces to establish an unmatched wellness and lifestyle powerhouse with an expanded and diverse portfolio of thoughtful, natural offerings inspired by advancements in epigenetics and focused on healthy aging, weight management, and mind-body wellness.
Readout Health is a behavior modification data startup focused on chronic diseases and has now announced the launch of multiple metabolic programs. With the paired handheld (FDA Class 1) Biosense that tracks precise fat oxidation in the breath as it changes with diet, fasting, and exercise, and combined with a personalized Fat Burn Score, the self-care behavioral modification in-app programs, including outcomes such as weight loss, anti-inflammation, longer healthspan, and metabolic flexibility.
N²RTU is a Malaysian project that aims to investigate the use of personalized nutrition plans to combat prevalent health risks like obesity, diabetes, and cardiovascular disease in Malaysia, recognizing that different individuals often have different responses to the same nutrients due to their genes and lifestyle. The project is led by the University of Reading and Universiti Tunku Abdul Rahman (UTAR) in Malaysia, in collaboration with the Ministry of Health Malaysia, Nutrition Society of Malaysia and the Malaysian-Industry Government for High Technology (MIGHT).
Season Health is an online platform that aims to create personalized meal plans for people with chronic diseases. Starting with diabetes and kidney disease, the platform includes 1-hour consultation with a registered dietitian to establish a customized nutrition plan, personalized meal recommendations, and concierge ordering. The platform will be available in March 2022 in several US states.
Food & Consumer Trends
Russia and Ukraine together represent a third of global wheat exports, 19% of exported corn, and 80% of exports of sunflower oil. With the war going on, food prices inflation worldwide, and more food insecurity especially in the poorest communities is expected.
A consumer research from insights and analytics agency Nepa set out to chart global attitudes to sustainable food and drink. The research included 5,600 consumers from the US, UK, Sweden, Germany, Brazil, India, and China. The results show large variances between markets, with Nepa's research showing that European and American shoppers are less positive about the outlook for plant-based products than their peers in markets like India, China, and Brazil. This study also shows that 46% of people globally and 37% in the UK feel positive about only buying from brands that are net carbon zero in the future. India is the most open market with 77% of the consumers able to do this change.
Where am I speaking next?
I will be speaking at the upcoming Food innovation & investment summit in San Francisco. The lineup of speakers is excellent and I look forward to sharing insights on Personalised Nutrition. click the image for more info.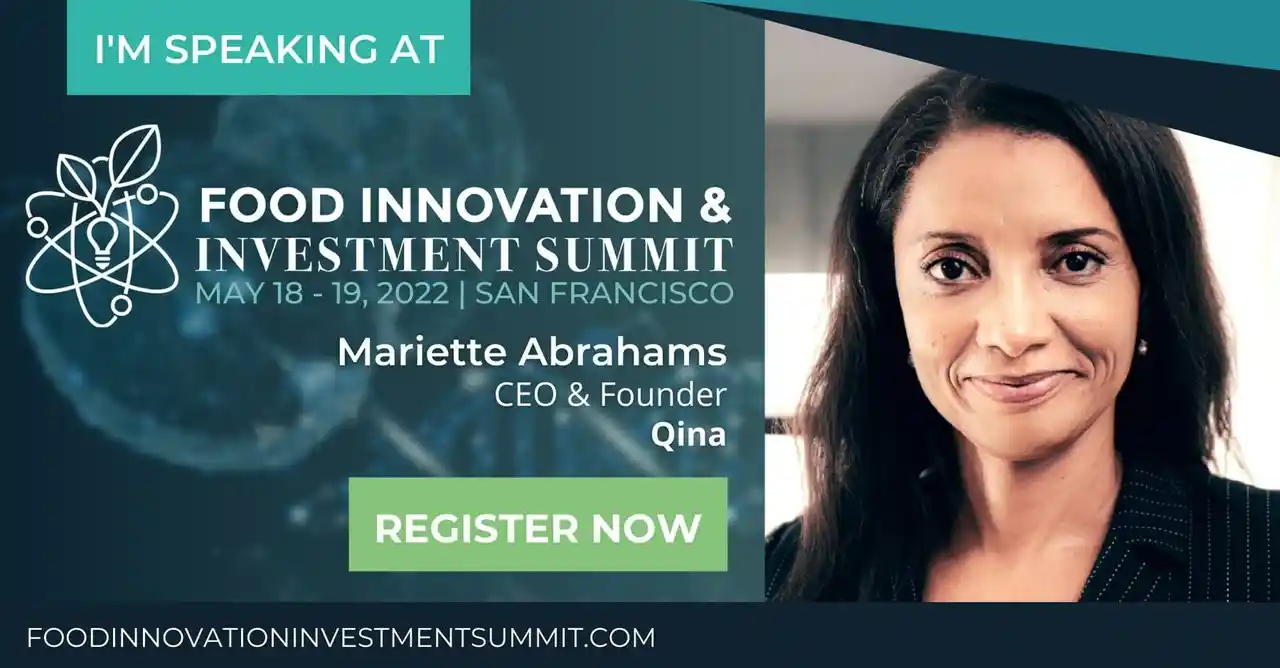 Upcoming Events
Food Innovation and Investment Summit, Kisaco Research, San Francisco, California, 18-19 May 2022
Personalized nutrition summit - ANA, San Diego 26-29 October
Qina is the hub for data and insights in Personalised nutrition. Qina offers the world´s first comprehensive and curated database of Personalised nutrition companies in the industry. Qina has a library of expert content and offers consultancy services for innovation projects.
---
---