How to build a more equitable health system
May 19, 2021 5:45pm
---
We're officially on the green travel list , meaning we've been descended on by over 5500 UK visitors in one day!
There is no lack of activity in the industry either, as this week's newsletter includes: the latest in research, new recommendations for building a more equitable health system, Nestle buys Nuun, Insidetracker integrates with Garmin, new sweat sensor for glucose tracking, trends in the healthiness of fast food and loads more!
Happy reading!!
Mariette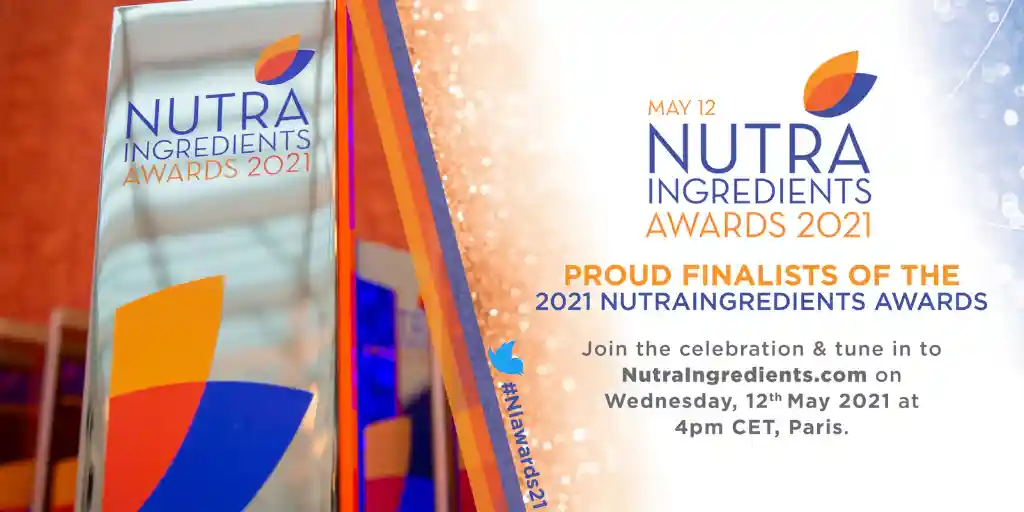 We didn't win this year's Nutraingredients award, however, we are super proud that we made it to the final 3. To see the full list of winners across all categories, click here.
In the Headlines: Genetic astrology? Nutrigenomic DNA tests: Can you prime your health by tailoring diet and exercise to your biology?

I am always a proponent of diverse views and perspectives. I like to make sure that we also see, hear and understand the opinions of those who may have a less favourable view on any aspect of personalised nutrition. This recent article published by the Genetic literacy project caught my eye. It paints a less optimistic view of the area of nutrigenetics, however I always think that a nutrigenetic test is never a solution n its own and is just a tool for use when personalising someone's diet and lifestyle, what do you think?
Research Update
The aim of this study was to investigate "the risk of developing and dying from 24 cancers based on six markers of obesity: body fat percentage, waist-to-hip ratio, waist-to-height ratio, waist and hip circumferences and body mass index (BMI)". Using data from the U.K. Biobank of more than 400,000 men and women who were cancer-free, the researchers found: "reducing obesity cuts the risk for endometrial cancer by 44% and uterine cancer by 39%, and could also prevent 18% of kidney cancers and 17% of stomach and liver cancers (...) No matter which way it was measured, obesity increased the odds of developing 10 of the most common cancers, the study found. A larger waist and hips, BMI, or percentage of body fat all provided similar cancer risk. (...) a BMI score of 24.9 is considered normal, and every addition of about 4 for men and 5 for women above 25 was linked to a 3% higher risk of cancer overall. It also increased the risk of cancers of the stomach (35%), gallbladder (33%), liver (27%), kidney (26%), pancreas (12%), colon (10%), and bladder (9%)."
This randomized controlled clinical trial aims "to suggest that specific diet and lifestyle interventions may reverse Horvath DNAmAge (2013) epigenetic aging in healthy adult males". The 8-week treatment program included a group program (with diet, sleep, exercise, relaxation guidance, supplemental probiotics, and phytonutrient treatment), and a control group that didn't receive any intervention. The genome-wide DNA methylation analysis was conducted on saliva samples using the Illumina Methylation Epic Array and DNAmAge was calculated using the online Horvath DNAmAge clock (2013). The results suggest: "The diet and lifestyle treatment was associated with a 3.23 years decrease in DNAmAge compared with controls (p=0.018). DNAmAge of those in the treatment group decreased by an average 1.96 years by the end of the program compared to the same individuals at the beginning with a strong trend towards significance (p=0.066). Changes in blood biomarkers were significant for mean serum 5-methyltetrahydrofolate (+15%, p=0.004) and mean triglycerides (-25%, p=0.009)".
"As a result of the ageing population, (...) there is an associated increase in the prevalence of pathological conditions, such as metabolic disorders, type 2 diabetes, cardiovascular and neurodegenerative diseases, many types of cancer, and others. (...) Non-pharmacological, dietary interventions such as energetic restriction (ER) and methionine restriction (MR) have revealed promising outcomes in increasing longevity and preventing and/or reversing the development of ageing-associated disorders. In this review, we discuss the evidence and mechanisms that are involved in these processes."
"As a result of the ageing population, (...) there is an associated increase in the prevalence of pathological conditions, such as metabolic disorders, type 2 diabetes, cardiovascular and neurodegenerative diseases, many types of cancer, and others. (...) Non-pharmacological, dietary interventions such as energetic restriction (ER) and methionine restriction (MR) have revealed promising outcomes in increasing longevity and preventing and/or reversing the development of ageing-associated disorders. In this review, we discuss the evidence and mechanisms that are involved in these processes."
This review aimed to evaluate interoceptive abilities (abilities to sense the internal state of the body) and motivational state, psychometric characteristics, and eating behavior, in 64 healthy women classified as sweet likers (SLs) or sweet dislikers (SDs). The results show: "SLs performed significantly better than SDs on both heartbeat tasks, independently of impulsivity, anxiety, depression, and alexithymia. (...) With gastric interoception, SLs were more sensitive to stomach distention, and they ingested less water than SDs (...) SLs also scored higher on mindful and intuitive eating scales and on emotional eating particularly in response to negative stimuli; (...)"
"The primary aim of this cross-sectional study was to explore the relationship between FV [fruit and vegetable] intake and perceived stress in a population-based cohort of men and women aged ≥25 years from the Australian Diabetes, Obesity, and Lifestyle (AusDiab) Study. A secondary aim was to investigate the relationship between serum carotenoids, biomarkers of FV intake, and perceived stress". The questionnaires used were the Food Frequency Questionnaire and the Perceived Stress Questionnaire [PSQ]. The results show: "in Australian adults, higher FV intake was associated with lower perceived stress, particularly in middle-aged adults. These findings support current recommendations that fruit and vegetables are essential for health and well-being."
"Focus on the role that agriculture and food systems must play to improve nutrition and health has come through multiple lenses. Nutrition-sensitive interventions that address underlying determinants of nutrition are promoted as being complementary to nutrition-specific interventions by drawing on sectors including agriculture and health, being implemented at a large scale, and reaching poor populations with high burdens of malnutrition (1). For many people in the world, agriculture provides their livelihood, the means through which they acquire food, income, and other resources to achieve goals such as nutrition and health (2–4). The Sustainable Development Goals for 2030 envision a world with food security, improved nutrition, and sustainable agriculture."
"Researchers have called on the National Institute for Health and Care Excellence (NICE) to revise its current guidance on body mass index (BMI) and the risk of developing type 2 diabetes, as they found that a "one size fits all approach" does not work for adults from ethnic minority backgrounds. A large, population-based cohort study by the team found that Black Caribbean, South Asian, Chinese, and Arab populations living in England had an equivalent risk of type 2 diabetes at substantially lower BMI values than the current cut-offs for obesity."
This study aimed "to examine the association of omentin gene polymorphism with serum adiponectin levels and cardiometabolic health status using a genetic approach, and investigate whether these associations are modified by lifestyle factors". The participants considered as "cardiometabolically healthy were those without hypertension, diabetes, and dyslipidemia". The results show: "The 'A' allele of the omentin SNP was significantly associated with lower adiponectin concentrations after adjusting for age, sex, body mass index (BMI), waist circumference (WC), and cardiometabolic health status. There was also a significant association between circulating adiponectin concentrations and cardiometabolic health status after adjusting for age, sex, BMI, WC and Omentin SNP. However, after adjusting for age, sex, BMI, WC and adiponectin levels, the association of 'A' allele with cardiometabolic health status disappeared suggesting that adiponectin serves as a mediator of the association between omentin SNP and cardiometabolic health status. There were no significant interactions between the SNP and dietary factors on adiponectin levels and cardiometabolic health status".
Technology News
At the International Vatican Conference, it was discussed how to start developing healthcare systems around the most vulnerable populations through tech insights. The focus should be on big data and analytics. "It's very important that you base your decision on data, on solid evidence. And with this, you can help to target the precise part of the population that needs more. With this, you can target the prioritization of resources," Dr. Walter Ricciardi, president of the World Federation of Public Health Associations, said during the panel. Peoples' privacy, misinformation on the web, lack of economic resources, and lack of expertise can be obstacles to the success of the operation.
Another addition to Nestlé's health science portfolio is the purchasing of Nuun. A company that provides healthy sports hydration tablets and powders, from private equity firm TSG Consumer Partners. Nuun claims to be the top-selling sports drink supplement brand in running, cycling, outdoor, and natural food stores.
"InsideTracker, the leading ultra-personalized performance system, today announced the availability of Garmin® integration, making the next generation of InsideTracker the first consumer platform of its kind to give a full, 360-degree view of wellness by enabling users to combine blood biometrics with DNA insights and activity tracker data to optimize endurance, strength, healthspan/longevity and more."
Eagle Genomics is expanding its operation in India, with a small team of 20 engineers in Hyderabad, India. And, why India? According to Anthony Finbow, CEO of Eagle Genomics, "India has a highly diverse population with diverse microbiomes – humans, animals, and soil. Understanding diversity in microbial species and conservation of function (in metabolism) across species is a key frontier in developing understanding in the space and therefore India is very important." (...) "They will enable faster development of the platform to meet the innovation demands of our customers across the food, personal care, and AgBio industries and will support the fast-evolving pharmabiotics opportunity." "Furthermore, it means we will have richer and diverse microbiome data available on the platform, which delivers more reliable insight generation for our customers."
"Researchers at the University of California San Diego have developed a sweat sensor that measures glucose levels on the skin and converts those readings into accurate blood sugar estimates [95% accuracy]. As glucose levels in sweat can vary from person to person, the sensor incorporates algorithms that personalize the measurement for each user, requiring finger-prick calibration once or twice each month".
NovoBiome is the latest company in the microbiome-gut-liver axis space in the treatment of liver conditions. Their principal objective is to create Liver Biotherapeutic Products (LBP) that target the Non-Alcoholic Fatty Disease (NAFLD) and Non-Alcoholic steatohepatitis (NASH). With AI-powered platform NovoSift (that was nominated the "Method of the Year" by Nature Magazine), the first LBP drug candidate is ADC-001, an anti-inflammatory bacterium, Coriobacteriia, and contains Adlercreutzia equolifaciens, an equol-producing bacterium isolated from human faeces that is strongly correlated with the switch from NAFLD to NASH.
Join us for the upcoming not-to be missed Personalised nutrition Summit where we are speaking and judging!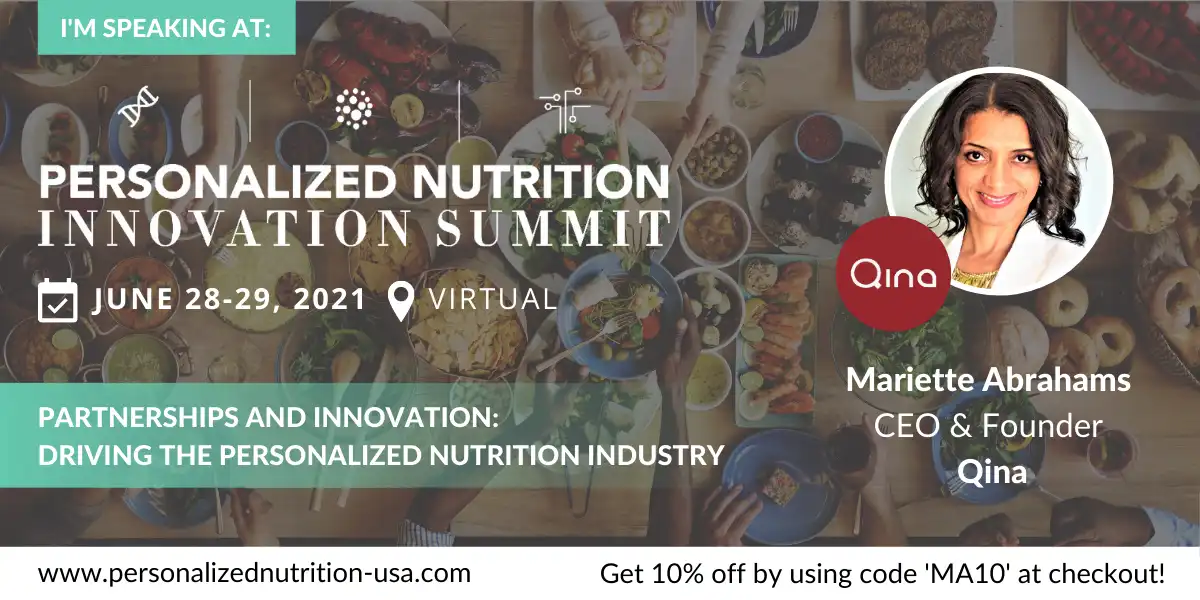 Food & Consumer Trends
"This study aimed to examine trends in the healthiness of U.S. fast food restaurant meals from 2008 to 2017, using the American Heart Association's Heart-Check meal certification criteria". The results show "compared with 2008, significantly fewer fast food meals met the AHA calorie criterion in 2015, 2016, and 2017, and significantly fewer met the AHA total fat criterion in 2015 and 2016. Significantly more meals met the AHA trans fat criterion from 2012 to 2017, compared to 2008".
The COVID-19 pandemic has accelerated the growth of the online shopping sector into five years, and "the vast majority of UK consumers who bought online for the first time during the pandemic will continue to buy online." These are findings of the Digital Marketing Agency Mullen Lowe Profero Report that also showed that 40% of the respondents worried about the environmental impact of delivery. A new trend is appearing: the concept of zero waste shopping online, with supermarkets allowing consumers to fill their own containers at the store to reduce plastic waste.
Immune System support is one of the major tendencies post-pandemic. According to Givaudan's recent "Food for Health" study, 89% of European consumers are interested in consuming functional food and beverages. Nowadays, consumers are seeking natural ingredients such as botanical ingredients (one of the top trends for 2021). At the same time, clean labels and recognizable, responsible labels are very important to consumers'. "Manufacturers need to focus on sustainability as well as science-driven innovation, to build trust". Food experiences and convenience are other keys to success.
According to the Good Food Institute Report, 2020 was the best year for the sustainable protein market. Year after year, this area is growing, and "Western Europe is now the largest regional market for plant-based meat, making up 43% of the global plant-based meat market". "In 2020, fermentation joined plant-based and cultivated proteins as the third technological pillar of the alternative protein revolution".
Upcoming Events
Food as medicine: Understanding the power of food & possible impact on future of food healthcare - 26th-27th May
Kisaco Personalised nutrition summit, 28-29th June
Personalised nutrition & Health (Wageningen) - 7th October
Personalised nutrition innovation summit Newtrition X (Cologne) - 12th October
Qina is the hub for data and insights in Personalized nutrition. Qina offers the world´s first comprehensive and curated database of Personalised nutrition companies in the industry. Qina has a library of expert content and offers consultancy services for innovation projects.
To stay up to date on news and developments in the Personalized nutrition industry, sign up for a free account here
---
---