Investor $ continue to flow to personalized nutrition startups
Sep 01, 2021 1:40pm
---
We are back! exploding with renewed energy, positivity and blinding radiance. Not really, but it feels like the right thing to say and I'm sure I'm not alone. We have been working hard in the background on our plans and projects which we will reveal soon!. Apart from disgraced Theranos CEO Elizabeth Holmes (remember her?) going to court this week, we have a lot of news to share including: Our feature in Wired magazine, Oviva raising $80m and a new MOOC on personalized nutrition!
Happy reading!!
Mariette
Qina featured in Wired magazine article on Personalised nutrition?
Last week we were quoted in the Wired article on consumer microbiome testing entitled "The Poop About Your Gut Health and Personalized Nutrition". This article gives some insight into the evolution of the Personalized Nutrition sector with a slight slant on the microbiome
You may also be interested in reading: Personalized nutrition and the microbiome- using big data
Research Update
This article looks at the Health Nutritional Index (HENI) that quantifies marginal health effects in minutes of healthy life gained or lost. Looking at 5,853 foods in the US diet by their nutritional disease burden to humans and their impact on the environment. "[This] index is an adaptation of the Global Burden of Disease (GBD) (...) [and the] researchers used 15 dietary risk factors and disease burden estimates from the GBD and combined them with the nutrition profiles of foods consumed in the United States (...). Foods with positive scores add healthy minutes of life and foods with negative scores are associated with health outcomes that can be detrimental to human health. To evaluate the environmental impact of foods, the researchers utilized IMPACT World+, a method to assess the life cycle impact of foods (...). They developed scores for 18 environmental indicators taking into account detailed food recipes as well as anticipated food waste. Finally, they classified the food by the traffic light colors.
Based on their findings, the researchers suggest:
- Decreasing foods (red zone) with the most negative health and environmental impacts include high processed meat, beef, shrimp, followed by pork, lamb, and greenhouse-grown vegetables.
- Increasing the most nutritionally beneficial foods (green zone), including field-grown fruits and vegetables, legumes, nuts, and low-environmental impact seafood."
This review examines the effects of ketogenic diets on common chronic diseases (seizure disorders, obesity, and weight management, diabetes, non-alcoholic fatty liver disease, cancer, Alzheimer's, cardiovascular disease, and kidney health) and in pre-pregnancy and pregnancy. It examines the impact on diet quality and possible risks associated with their use. The results show "Very-low-carbohydrate diets are associated with marked risks. LDL-C can rise, sometimes dramatically. Pregnant women on such diets are more likely to have a child with a neural tube defect, even when supplementing folic acid. These diets may increase chronic disease risk: Foods and dietary components that typically increase on ketogenic diets (eg, red meat, processed meat, saturated fat) are linked to an increased risk of chronic kidney disease, cardiovascular disease, cancer, diabetes, and Alzheimer's disease, whereas intake of protective foods (eg, vegetables, fruits, legumes, whole grains) typically decreases. Current evidence suggests that for most individuals, the risks of such diets outweigh the benefits".
"This (...) study evaluated the impact of a 10-week personalized systems nutrition (PSN) program on lifestyle behavior and health outcomes". The 82 participants were divided into seven diet types, for which phenotypic, genotypic, and behavioral data were used to generate personalized recommendations. The results show: "the intervention reduced the intake of calories (−256.2 kcal; p < 0.0001), carbohydrates (−22.1 g; p < 0.0039), sugar (−13.0 g; p < 0.0001), total fat (−17.3 g; p < 0.0001), saturated fat (−5.9 g; p = 0.0003) and PUFA (−2.5 g; p = 0.0065). Additionally, BMI (−0.6 kg/m2; p < 0.0001), body fat (−1.2%; p = 0.0192) and hip circumference (−5.8 cm; p < 0.0001) were decreased after the intervention. In the subgroup with the lowest phenotypic flexibility, a measure of the body's ability to adapt to environmental stressors, LDL (−0.44 mmol/L; p = 0.002) and total cholesterol (−0.49 mmol/L; p < 0.0001) were reduced after the intervention. This study shows that a PSN program in a workforce improves lifestyle habits and reduces body weight, BMI and other health-related outcomes".
This review aims to explore the perspectives of the final users on the features, current use, and acceptance of nutrition and diet mHealth apps through a 19-question survey. The results show "a total of 2382 respondents (...) with a mean age of 27.2 years (SD 8.5) completed the survey. Approximately half of the participants (1227/2382, 51.5%) had used a nutrition and diet app. The primary criteria for selecting such an app were ease of use (1570/2382, 65.9%), free cost (1413/2382, 59.3%), and ability to produce automatic readings of caloric content (1231/2382, 51.7%) and macronutrient content (1117/2382, 46.9%) (ie, food type and portion size are estimated by the system without any contribution from the user). An app was less likely to be selected if it incorrectly estimated portion size, calories, or nutrient content (798/2382, 33.5%)".
"This study investigates the association of the genetic polymorphism rs7903146 and dietary intake with Type 2 diabetes (T2D) risk in a population free of metabolic disease. [The] T2D risk was assessed using HbA1c plasma concentrations and dietary intake via a validated Food Frequency Questionnaire in 70 healthy participants". The results show that T allele carriers had higher HbA1c levels than the CC group, and carbohydrate, protein, and monounsaturated and saturated fatty acids were positively associated with HbA1c concentration. In conclusion: "Carriers of the T allele showed significantly higher levels of HbA1c compared to non-carriers. Dietary intake affected T2D risk to a greater extent than genetic effects of TCF7L2rs7903146 genotype in a healthy population".
The survey "CSIRO Diet Types Survey Understanding Australians' dieting personality" was released last month. It studied over 245,000 people to understand the unique behavioral and emotional characteristics that might be helping or hindering their weight loss. The results identified 325 possible Diet Type personality combinations, "including two new hybrid personalities, the "Battler" and the "Pleaser", representing around 20% of all dieters. The six most common diet types identified in the research, which represented over half the study sample, include the Thinker (14.1%), the Battler (12.8%), the Craver (7.3%), the Pleaser (7.1%), the Foodie (5.9%) and the Socialiser (4.8%). [Also], of the six dominant Diet Types, the research found that Cravers had the most weight to lose when they signed up for the CSIRO Total Wellbeing Diet Program. Foodies were the most successful at losing weight and staying on the program, engaging with the program 50% more than Cravers and Battlers, who were least engaged".
We also recommend:
Matching personalised nutrition solutions to weight loss as a key focus for 2021
Technology News
"LOEWI empowers people to be the healthiest version of themselves by making personalized health transparent and accessible. LOEWI analyzes micro-and macronutrients through finger-prick blood tests, visualizes the results through the LOEWI platform, and offers personalized diet recommendations and personalized supplements to match individual needs". Now it is available in Switzerland!
"Mixfit is a digital health company that designs nutritional experiences to encourage lasting, positive changes in health behavior." Mixfit announces "a re-design of the website and 2 new Commercial updates. Firstly, the B2C product offering is now simplified. You can now start using Mixfit for only 99 USD. Secondly, Mina Pro platform is now commercially available to all Nutritionists, Dieticians, and Coaches."
Alona Pulde, MD, and Matthew Lederman, MD, the creators of Forks Over Knives documentary and the authors of the book, The Forks Over Knives Plan, advocate for a plant-based diet joined the Health Advisory Board of Lifesum. They have joined current health advisory board members, Christina Meyer-Jax, MS, RDN, LDN and RYT, and Andrew Zimmermann, Founder of Behavior Design Collective. Together, the Health Advisory Board will help Lifesum remain innovative and ready to meet the nutritional needs of the company's ever-growing user base.
"Rootine" is a "new Nashville-based personalized nutrition company that has raised $3 million in seed financing to build out technology that will provide digital health tracking tools to encourage vitamin and mineral intake among other lifestyle management tools. Founded by Daniel Wallerstorfer, a biotechnician and nutrition expert in Austria, and former NaviHealth strategist Rachel Soper Sanders. Rootine will offer at-home tests and health data analytics with action insights personalized to each member. Then, using artificial intelligence, the company will build its precision nutrition brand by considering dietary habits, lifestyle, DNA and blood test results, and physical activity.
"DentalSlim Diet Control" is a controversial oral device that allows its users to open their mouths only 2mm wide. This device was developed by medical professionals from the University of Otago in New Zealand and scientists from Leeds in the UK, and can be fitted by dentists and uses magnetic components with locking bolts. The goal is that the users go on a liquid diet, but it has been criticized online, with some comparing it to medieval torture.
UK based Oviva has announced that they successfully raised series C round. Oviva offers app-delivered nutrition and telehealth services to improve diet and lifestyle especially for Type II Diabetes and Pre-Diabetes. Their programs are funded by insurance companies or state-funded health programs on a referral basis.
"This article provides an overview of the proposed EU AI regulation and three key actions organizations can take to develop a comprehensive AI risk-management program that best enables them to meet regulatory requirements; minimize the legal, reputational, and commercial risks of using AI; and ensure that their AI systems are used fairly and ethically".
Australian-based Nutromics originally had its eye set on the delivery of personalized nutrition advice based on a continuous glucose monitor. After a number of months of silence, it looks like the focus has changed to personalized drug delivery using a continuous molecular monitoring system with Vancomycin as the first focus. very interesting!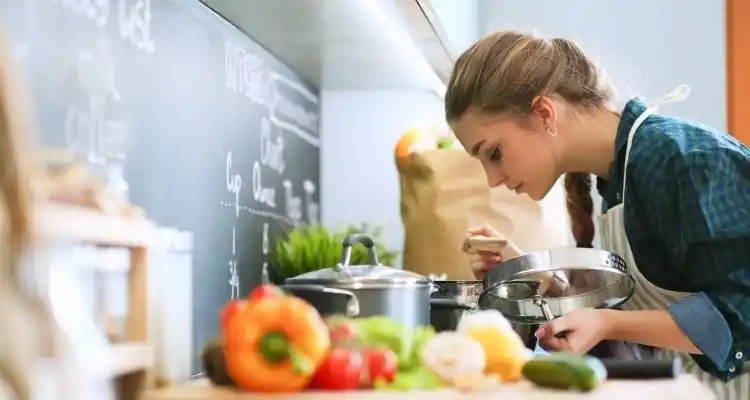 Resource
This MOOC (Offered by Talent for Food and Life Sciences) will dive into the what, why, and how of Personalized Nutrition; including its potential challenges. Further, it will discuss the different technologies, which can be used for Personalized Nutrition and the potential applications of Personalized Nutrition.
Food & Consumer Trends
Last year, on Pinterest, searches for "body neutrality", "stop body-shaming quotes", and "body acceptance" increased 5 to 7 times more. With this increase, and supported by the National Eating Disorders Association (NEDA), "Pinterest updated its ad policies to ban all ads featuring language and imagery tied to weight loss. The update means that Pinterest will now ban testimonials about weight loss or weight loss products, as well as language and imagery that "idealizes or denigrates certain body types." The ban also applies to ads referencing Body Mass Index (BMI), as well as products that claim people can lose weight by wearing or applying something to their skin". Pinterest is the first major tech platform to prohibit weight-loss ads and encourages others in the industry to do the same. In the last two years, Instagram and TikTok have announced some restrictions on weight loss supplements, fasting apps, and cosmetic surgery.
"Foodsteps" is the first UK-based tech firm to provide carbon tracking and impact labeling to restaurants and caterers as well as food businesses. The firm offers three technology solutions: a cloud-based platform, labeling capability, and QR code scanning. They cover over 1,000 ingredients and incorporate carbon footprint, pollution, water use, and land use impacts. On the platform, food providers can upload recipes and view the sustainability impact of each ingredient. Using scoring similar to NutriScore, Foodsteps classifies food or recipes from A-E (A meaning low environmental impact of the product and E, high environmental impact).
We believe that it is going to be only a matter of time before food waste becomes an integral part of personalized nutrition. The UK has a number of innovative startups addressing the problem of food waste such as this startup Oddbox.
Sign up! Get more of our Personalized Nutrition solutions
Upcoming Events
American Nutrition Association (ANA) - Mapping the future 28th-1st October Chicago hybrid event
Vitafoods Personalised nutrition roundtable - 6th October
Personalised nutrition & Health (Wageningen) - 7th October
Personalised nutrition innovation summit Newtrition X (Cologne) - 12th October
Sports & Active nutrition summit (Nutraingredients) 12-14th October
Qina is the hub for data and insights in Personalised nutrition. Qina offers the world´s first comprehensive and curated database of Personalised nutrition companies in the industry. Qina has a library of expert content and offers consultancy services for innovation projects.
---
---