Poo hits the fan as uBiome files for bankruptcy
Sep 11, 2019 5:00pm
---
It's been a busy week as we're gearing up for our next presentations in partnership with Global eloquence in London, chairing the day and a panel discussion at the Personalised nutrition & Innovation summit , chairing a panel on the microbiome in Renne at NutrEvent, and speaking on Inclusion & diversity in personalised nutrition & wellness at the first European nutrition & Health conference at Wageningen.
Plenty of news to share this week including: uBiome files for bancruptcy, latest research, Edelman's prediction of PN as a global trend, vegan meals as the fastest growing take-away trend, two tickets up for grabs to attend the leading data-science conference Predict in Dublin and new events.
Holy poo! uBiome files for bankruptcy
In dramatic silicon valley style, the market leader uBiome last week filed for bankruptcy. This news comes following the recent raid by the FBI and rumours that aggressive growth strategies were adopted at the company.
To read the full story, click
here.
Research Update
A report from Commonwealth Scientific Industrial Research Organisation (CSIRO) in Australia, suggests that the dietary intake of protein such be personalized according to "age, gender, actual body weight, physical activity, health status, medication and energy needs". The evidence supports an increase in protein intake especially for overweight and older people at 1,0-1,4g/kg/day. The increased protein intake can have a beneficial effect on weight management in terms of appetite control, metabolic improvement, reduced food cravings, and improved body composition. The importance of protein distribution across meals and the protein sources are other topics available in this report.
To read all report chick
here
Folate and vitamin B12 are key to one-carbon (1-C) metabolism. In this study, baseline red blood cell folate (RBC folate), plasma vitamin B12, and total homocysteine (tHcy) concentrations in 752-766 participants of the Newcastle 85+ Study. The results showed that higher concentrations of tHcy in all participants and plasma vitamin B12 in women were associated with increased risk of all-cause and CVD mortality in the very old. However, more studies are needed to make this association with younger people.
Over 5 years, the adherence to a healthy diet, Mediterranean or Low-Fat was evaluated in 3 parameters (Low, Medium and High Adherence), in 1002 participants (n-502 with Mediterranean Diet and n-500 with Low-Fat Diet). The methods used include individual-group-telephone visits and personalized dietary advice as well as a validated food frequency questionnaire. Changes in nutrient intake, food consumption, and adherence were analyzed on a yearly basis. The results showed that from baseline to 5 years, significant increases were observed in overall dietary adherence, and in the percentage of patients considered High Adherence, in both groups. In summary, comprehensive dietary intervention results in an overall long-term improvement in diet adherence.
The Capability-Opportunity-Motivation Behavior (COM-B) model and the Behavior Change Wheel framework (BCW) were tools used to develop the Care Informatics and Technologies project in an Australian University. This pilot project aims to incorporate digital health in work methods of future health professionals. I think this is absolutely necessary and important work to get on the strategic agenda of all nutrition programmes!
The objective of this study is to identify blood metabolite markers of gut microbiome diversity, and explore their relationship with dietary intake and MetS in 1529 UK female twins. Association between Shannon diversity and 292 metabolites profiled by the untargeted metabolomics provider Metabolon Inc with self-reported intakes of 20 food groups. The results showed that higher intakes of fruit and whole grains were associated with higher levels of hippurate, and increasing hippurate trend was associated with reduced odds of having MetS.
Additional biomarkers to assessment of food intake and dietary exposure are needed which is not certainly not a newsflash. This perspective suggest challenges in current food biomarkers, and includes topics on: designs for biomarker development, analytical and bioinformatics considerations, and integration of dietary biomarkers with other omics techniques. The main goal is to keep moving the field forward and producing robust, reproducible biomarkers that can be used in public health and clinical research.
---
Technology News
Edelman's Global Food and Beverage Trends Report for 2019 says that "Personalized Nutrition is a natural extension of customization – and one that will change the way food and beverage manufacturers not only make, but also market, their products", and this is on the center stage! Super powders, Alternative Butters & Oils, Fodmap, Teas, Egg Yolks, Kokumi and Earth Sustainability are the other trends in 2019!
To read the report click
here:
"Only Me" is the new service of Vitamin Shoppe. By filling out a personalised questionnaire about health status and daily routines, the "Only Me" provides with an individualized wellness plan that contains a daily pack of vitamins and supplements, prescribes by medical experts and nutritionists. The nutritionists are available for online consultations or physically instore in selected markets. This is another company to bet on Personalised Nutrition, understanding that wellness is not "one-size-fits-all".
Research presented at the European Society of Cardiology Congress in Paris and published in the European Heart Journal by University of Oxford, was used to develop artificial intelligence to prevent fatal heart attacks. This specific biomarker is very useful to detect biological red flags in blood vessels that supply blood to the heart, identifying inflammation, scarring and changes to the vessels – all pointers to heart attacks.
The Micro Sampling Kit from Brighlabs is used to detect Vitamin D deficiencies with only one drop of blood. The goal is to detect micronutrient deficiencies through a at-home testing kit and this pack will be improved to detect A, B, E and minerals deficiencies at the end of the year. This can be a useful tool to test blood as a part of a remote- healthcare management approach when people suffer from various symptoms such as reduced immune resistance, energy shortage and muscle cramps in the case of Vitamin D deficiency.
---
Food & Consumer Trends
Consumer trends point towards new choices being made by the UK in Take-Away meals. In the last 2 years (2016-2018), the vegan meals by take-away, increased orders by 388%, followed by Greek, Caribbean, Persian and Thai Cuisines. I really hope with such a spike that take-away outlets will soon be offering nutrition consultations too!
The fruit and vegetable processing market is growing and changing! 3D printing technology and high-pressure processing (HPP), are new techniques that reduce fruit and vegetables waste and increase food safety. In addition concerns about obesity and increased interest in wellness are driving demand to sweeten products naturally with exotic fruits and provide natural proteins by fermentation technology. This trend is certainly one to watch in terms of how this will impact long-term health.
CSIRO produced the Food and Agribusiness Roadmap in July 2017 to support the economy of Australian food and agribusiness and to oriented investment in science and technology in emerging food markets. One of the opportunities identified, include a growth in products for health & wellbeing driven by increasing consumer interest for personalized nutrition. The analysts estimated the personalized nutrition market to grow from $66m in 2018 to $500m by 2030.
Up for grabs!! Two tickets to attend PREDICT in Dublin
I have two free tickets to attend the leading PREDICT conference in Data-science in Dublin this year! I attended last year for the first time and if you have not attended a data-science conference before, I highly recommend this if you want to expand your horizons and your perspective about the potential of data.
There were excellent speakers from Google, Accenture, the Irish Times and many more. As a nutritionist and business woman, I felt completely at home and was made to feel very welcome. I have yet to see another event that is so diverse and inclusive on so many levels. I think you get the vibe, I absolutely loved it.
For more info about the event click
here
So if you are thinking of attending, send me an email by clicking
here
detailing why you should deserve to attend. Offer is on a first come, first serve basis.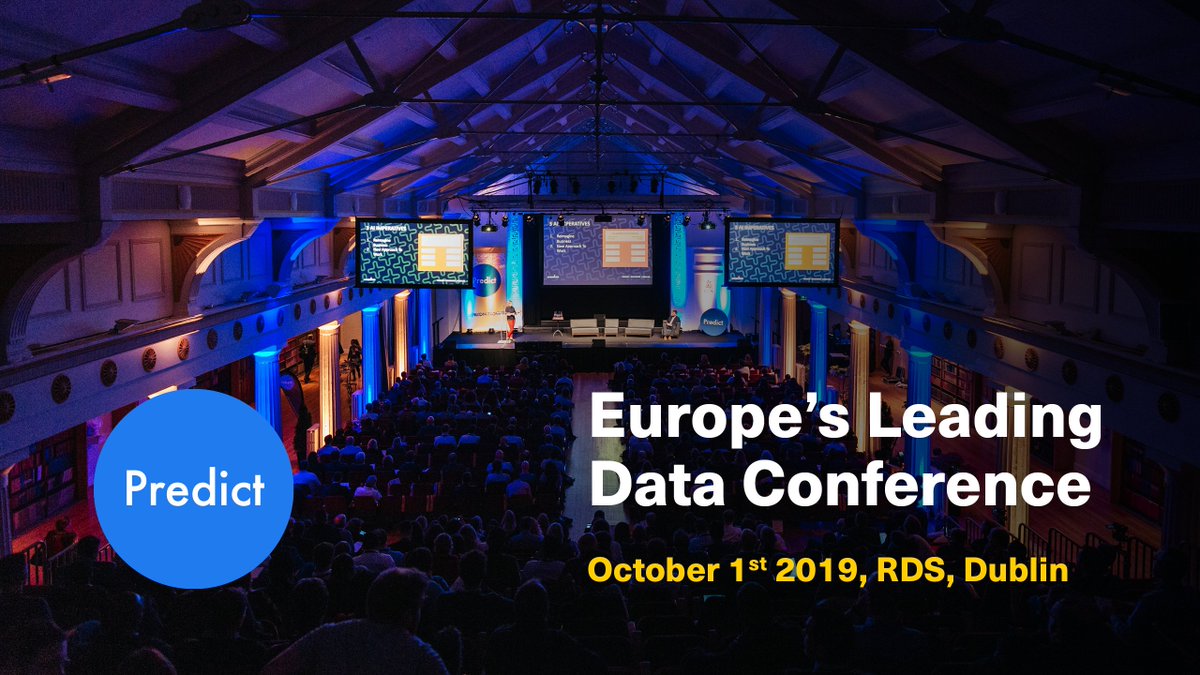 Resources
We recently joined the European AI alliance. The reason is that we are passionate about inclusion, diversity and data ethics in new digital products especially as it pertains to Personalised nutrition and wellness.
They have recently released the first Ethics guidelines for trustworthy Artificial intelligence which was developed by a high level expert group.
To read the full guidelines click
here
Planning your events and training for 2020? get in touch to learn more about our speaking and workshop services. Contact us here
Upcoming Events
Personalised Nutrition &Innovation summit 2-3 October (London)
use discount code PNEU_MA
TNO Personalised nutrition and health summit 8th October (Zeist)
Personalizing Nutrition Therapy in the Age of Lifestyle Medicine: 11 – 12 October (Seattle, USA)
FENS 15 -18th October (Dublin)
NutrEvent 22-23rd October (Rennes) COUVENT DES JACOBINS
The annual event where innovators and partnerships emerge
use discount code NE19_25speaker for a 25% discount
Foodmatterslive 19-20th November (London)
Food ingredients 2-4th December (Paris)
Qina is the hub for data and insights in Personalised nutrition. Qina offers the world´s first comprehensive and curated database of Personalised nutrition companies in the industry. Qina has a library of expert content and offers consultancy services for innovation projects.
To learn more about our products and services, sign up for a free account here
---
---