Contribution of genetic ancestry & polygenic risk score in vitB12
Jun 09, 2021 4:25pm
---
After the exodus of at least 20 000 Brits over the weekend, it feels like the Algarve is a little quieter. In the not-so quiet personalised nutrition industry we have included: the latest research, Babylon goes public, Sainsbury gamifies Fruit & veg intake, Blood sugar sensor Veri raises $4m, New executive data brief and more!
Happy reading!!
Mariette
New Executive data brief
We have just published our latest executive data brief on Trends in the microbiome. We cover the recent science, trends, innovations, and gaps. You can read our short blog here.
The monthly briefs are available to Qina platform subscribers only.
Research Update
This study aimed to find the "absolute concentrations of fecal metabolites from 205 healthy Danes (105 males and 100 females, 49 ± 31 years old)". The results showed "The largest systematic variation was found to be highly related to age. Fecal concentrations of short-chain fatty acids (SCFA) were higher in the 18 years old group, while amino acids (AA) were higher in the elderly. Sex-related metabolic differences were weak but significant and mainly related to changes in SCFA. The concentrations of butyric, valeric, propionic, and isovaleric acids were found to be higher in males compared to females. Sex differences were associated with a stronger, possibly masking, the effect from differential intake of macronutrients. Dietary fat intake decreased levels of SCFA and AA of both sexes, while carbohydrate intake showed weak correlations with valeric and isovaleric acids in females''.
This study aims to understand "how different compositions of the microbiota may affect the fermentation of alginate, polyguluronate (PG) and polymannuronate acid (PM)". The results show "(...) Bacteroides-dominated microbiota (Bacteroides enterotype) is more proficient at degrading and utilizing PG and PM as compared to Prevotella-dominated (Prevotella enterotype) and Escherichia-dominated microbiota (Escherichia enterotype). (...) Our study demonstrates an enterotype-specific effect of microbiota on the fermentation of alginate and its derivatives and highlights that personalized nutrition using dietary fibers should be tailored according to individual's composition of the gut microbiome"
"Over 2.8 million people die each year from being overweight or obese, a largely preventable disease. Raised body weight indexes are associated with a higher risk of cardiovascular diseases, diabetes, musculoskeletal disorders, and some cancers. Social media has fundamentally changed the way we communicate, collaborate, consume, and create content. The ease with which content can be shared has resulted in a rapid increase in the number of individuals or organisations that seek to influence opinion and the volume of content that they generate. The nutrition and diet domain is not immune to this phenomenon. Unfortunately, from a public health perspective, many of these "influencers" may be poorly qualified to provide nutritional or dietary guidance and advice is given may be without accepted scientific evidence and contrary to public health policy. In this preliminary study, we analyse the 'healthy diet' discourse on Twitter (...). Public health policymakers and professional nutritionists need to consider what interventions can be taken to counteract the influence of non-professional and bad actors on social media."
"Patients with chronic traumatic brain injury (TBI) requiring long-term, permanent care suffer a myriad of clinical symptoms (i.e., impaired cognition, fatigue, and other conditions) that persist for years beyond the acute brain injury. In addition to these comorbid clinical symptoms, chronic TBI patients exhibit altered amino acid and hormonal profiles with distinct cytokine patterns suggesting chronic inflammation. This metabolic link suggests a role of the gut-brain axis in chronic TBI. Thus, we utilized a two-site trial to investigate the role of the gut-brain axis in comorbidities of chronic TBI. The fecal microbiome profile of 22 moderate/severe TBI patients residing in permanent care facilities in Texas and California was compared to 18 healthy age-matched control subjects working within the participating facilities(...).The average chronic TBI patient fecal microbiome structure was significantly different compared to the control cohort, and these differences persisted after group stratification analysis to identify any unexpected confounders (...). Although the sequelae of gut-brain axis disruption after TBI is not fully understood, characterizing TBI-related alterations in the fecal microbiome may provide biomarkers and therapeutic targets to address patient morbidity."
"Glycemic traits are used to diagnose and monitor type 2 diabetes and cardiometabolic health. To date, most genetic studies of glycemic traits have focused on individuals of European ancestry. Here we aggregated genome-wide association studies comprising up to 281,416 individuals without diabetes (30% non-European ancestry) for whom fasting glucose, 2-h glucose after an oral glucose challenge, glycated hemoglobin, and fasting insulin data were available. Trans-ancestry and single-ancestry meta-analyses identified 242 loci (99 novel; P < 5 × 10-8), 80% of which had no significant evidence of between-ancestry heterogeneity. Analyses restricted to individuals of European ancestry with equivalent sample size would have led to 24 fewer new loci. Compared with single-ancestry analyses, equivalent-sized trans-ancestry fine-mapping reduced the number of estimated variants in 99% credible sets by a median of 37.5%. Genomic-feature, gene-expression and gene-set analyses revealed distinct biological signatures for each trait, highlighting different underlying biological pathways. Our results increase our understanding of diabetes pathophysiology by using trans-ancestry studies for improved power and resolution."
This cross-sectional study included 168 children and adolescents, aged 9–13 years old. Total cobalamin was measured in plasma. Genotyping arrays and whole exome data were combined to yield ~ 7000 SNPs in 90 genes related to vitamin B12.
Vitamin B12 levels were driven by positive (EUR) and negative (AFR, AMR) correlations with genetic ancestry. A set of 36 variants were used to create a PRS that explained 42% of vitamin level variation. Vitamin B12 levels are influenced by genetic ancestry and a PRS explained almost 50% of the variation in plasma cobalamin in Brazilian children and adolescents.
Technology News
Babylon has two primary channels -- Babylon 360 (a digital-first value-based care service) and Babylon Cloud Services (a platform of digital self-care tools that enables patients and clinicians to gain insights and information). Babylon has announced a fusion with Alkuri Global Acquisition Corp. The transaction reflects an initial pro forma equity value of approximately $4.2 billion and should be closed in the second half of 2021. The combined company will operate as Babylon and with the new symbol "BBLN".
"UK retailer Sainsbury's is gamifying the government's call for consumers to eat five pieces of fruit and vegetables a day with The Great Big Fruit and Veg Challenge, running from June 1 to 28. The challenge uses fun, interactive targets to encourage customers to purchase more fruit and vegetables when shopping at Sainsbury's by rewarding them with bonus Nectar loyalty points that can be spent at partners including Sainsbury's, Argos, and Habitat...The in-app tracker sets each customer's personalized fruit and vegetable targets to purchase in-store and online throughout the 28 days. Targets are based on their typical shopping habits and the average portions of fruit and vegetables they normally buy."
"Veri has raised $4 million in funding to start shipping its glucose sensor that monitors your blood sugar for preventative health. The Helsinki, Finland-based company views itself as a food intelligence company, as its sensor and the accompanying app can help people understand their optimal diet to improve the state of their metabolic health. The idea is to make blood sugar readings as commonplace as heart readings, which are now easily deciphered by smartphones, wearables, and their apps. The Veri app is only available on iOS for now."
Join us for the upcoming not-to be missed Personalised nutrition Summit where we are speaking and judging!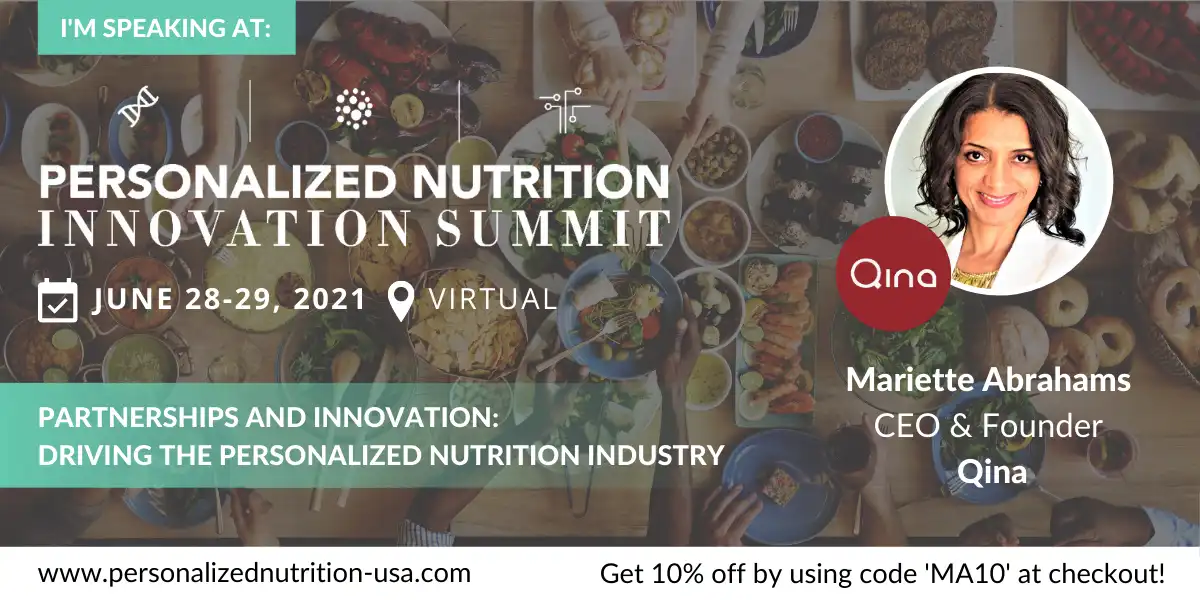 Food & Consumer Trends
Food synergies will be the next trend in the nutrition market, according to a report performed by AI data company Spoonshot. This can be done through the promotion of ingredients in packs to increase their benefits rather than focus only on a single ingredient. "Ingredient combinations that can enhance nutrient bioavailability will emerge alongside the single ingredient focus and pave the way for interesting innovation in the food and business space. As consumers become more interested in nutrition beyond just macronutrients, we expect to see a shift from the single "hero ingredients" call-outs to "dynamic duos". Another partnership that we may see is restaurants with nutritionists, "to use synergistic ingredient combinations to create dishes that enhance the bioavailability of nutrients, promoting benefits like immunity, gut health, eye health and so on".
FrieslandCampina Ingredients, Fonterra, Arla Foods Ingredients, and Glanbia Nutritionals talk about dairy ingredients and the sports nutrition market tendencies. "Dairy continues to be the foundation of performance nutrition (...). The format and type...has changed, with high-protein products becoming more mainstream (...) dairy, and whey, in particular, continue to be the 'king' of protein sources in the performance space (...). "Dairy products that are spoonable and drinkable are a popular choice for athletes due to their ability to build a healthy gut microbiome, offering immune system benefits, as well as digestive and mental health support (...) [and] high-protein bakery products like cookies and brownies with a healthier positioning are set for growth". Amino acid ingredients, including BCAAs, EAAs and L-leucine, L-citrulline, and beta-alanine, are also the latest tendencies on the market.
A global industry survey conducted by India-based platform Nutrify Today and US-based marketing firm Baker Dillion Group spoke with Nutra leaders from the USA, Israel, Switzerland, Singapore, India, Hong Kong, and Japan, about the role of AI in nutraceuticals.
The insights of this survey are:
Responders indicated that technological advancements in the industry will enable a more personalized approach towards nutrition over the next three years;
Over a quarter of participants stated that they expect the development of highly accurate sensors;
12% of the respondents believe that profiling individuals and providing specific dosages and ingredients based on their individual requirements are possible via robotics and 3D printing;
Fifteen percent of respondents also said they expect artificial intelligence to play a pivotal role in the Nutra industry as well;
3D printing is utilized in a whole range of industries, but 3D printing food items is a relatively under-exploited area;
Automated personalized nutrition where artificial intelligence will manage the nutrient needs and the source of ingredients will evolve into sustainable methodologies using biotech.
Upcoming Events
Kisaco Personalised nutrition summit, 28-29th June
Personalised nutrition & Health (Wageningen) - 7th October
Personalised nutrition innovation summit Newtrition X (Cologne) - 12th October
---
---